Our Staff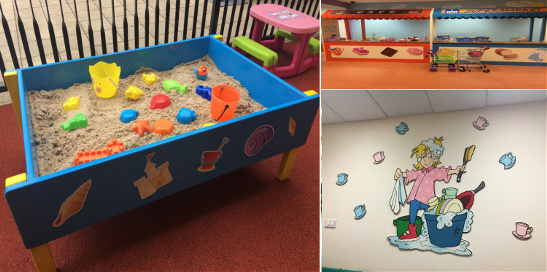 Our staff are all trained in first aid and have experience and qualifications in childcare. We do not have a high turnover of staff so your children are most likely to see the same staff members each time they come to visit us, this builds a secure happy environment for your child and you can be comfortable in the knowledge that your child is well cared for while you relax and shop.
We are in an open plan room, this ensures that 'what you see is what you get', so both parents and staff can see at a glance the happy environment your children are playing in.


ALL staff are Garda Vetted which is required by law. We are a member of Early Childhood Ireland, who keep us informed and up to date on all aspects of childcare.


For Children to Remember
"Nobody is perfect, that's why pencils have erasers" (Author Unknown)
For Parents/Guardians to Remember
"Children need love especially when they do not deserve it" (Harold Hulbert).
For Everyone to Remember
"The CHILD must know that he is a MIRACLE, that since the beginning of the world there hasn't been, and until the end of the world will not be, another child like him" (Pablo Casals).
Have a look at our locations here and find the Ready Steady Play that is nearest to you. If you have any questions, just give us a call.